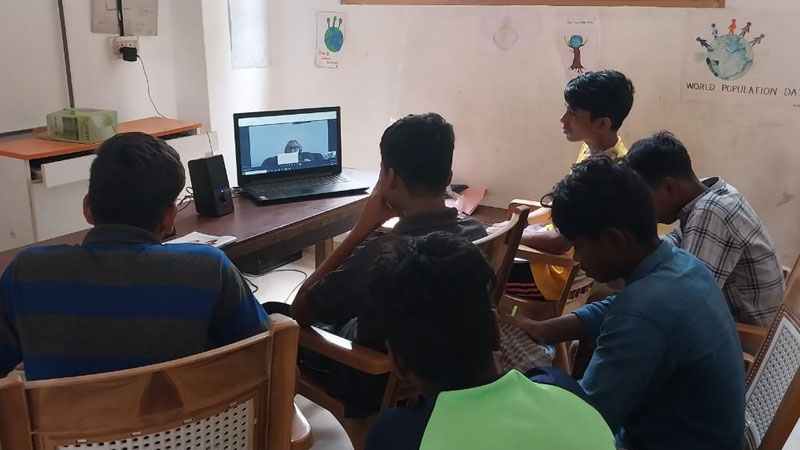 Uyare is a project implemented by ATMA Foundation, Thrissur aiming at providing online learning support for children residing in child care institutions (orphanages) in Kerala.
The institutionalised children may face various challenges in their academics due to their particular vulnerable situation and economic as well as personal issues. They have no safe homes - either due to poor economic conditions, absence of functional parents, or due to other serious issues in the family or social environment.
Uyare looks forward to providing firm academic foundation and enhanced learning skills among the children of institutions across Kerala. 137 children, including girls and boys, of 9 child care institutions across Kerala currently benefit from the project. There are also students from tribal communities of Attappady, Palakkad, Kerala whose social status is very precarious.
A Firm Foundation for Knowledge
Uyare organises regular online sessions on the basics of different subjects- Mathematics, English, Science, Social Studies and Malayalam. Children from Std V to XII attend the sessions. Qualified and skilled volunteer teachers handle the sessions. The project envisions to bridge the gaps in the academic learning of students in child care institutions. Personalised, interactive sessions with formal and informal follow-ups ensure that the students are given a strong foundational knowledge of subjects.
Excel in English
The children, including college students, are provided training in Spoken English. The sessions are handled by professional trainers. The children are helped to overcome the fear of English and improve their communication skills. The live interactive sessions play a vital role in the personal growth of the children also
Special Sessions & Extra Learning
Special sessions by eminent teachers and academicians are occasionally organised to kindle the children's interest in various subjects. For example, sessions on Vedic Math and Learning Chemistry through Music were recently organised and were greatly enjoyed by all children
Personal Growth
Apart from academics, various sessions for motivation, leadership skills, financial literacy and so on are being organised for the children under the project
Learner-oriented strategies
Learner-centred strategies are adopted in the project and we take our best effort to help the children deal with their personal as well as general issues in learning and development. The project develops practical solutions for the educational problems of students in child care institutions.
The sessions are also activity-oriented. Live quiz programmes, presentations of newspaper reports by students and group discussions, games, etc are conducted in the classes. The students are also given opportunities to present their artistic skills.
A platform to interact
The online sessions of Uyare also provide a platform where the children of different CCIs can interact with each other. They enjoy meeting other children, and there is a shared sense of camaraderie and cooperative learning.
The project has received enthusiastic response from the children as well as the institution managements. ATMA Foundation envisions expanding the project to support more children, through enrolling more CCIs in the project and by seeking the involvement of more volunteer teachers and academic experts.