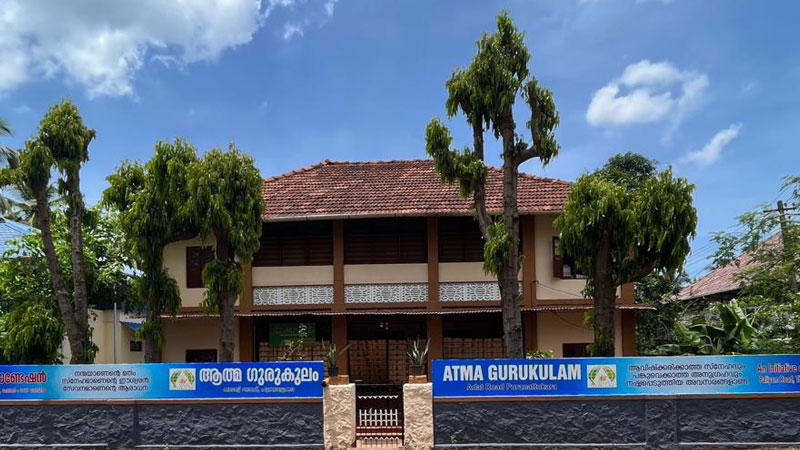 Adatt Road, Puranattukara
Reg no. 122/2017, Juvenile Justice Act
Reg No. 2289/2014 Orphanage Control Board, Kerala
ATMA Gurukulam is a Home for girls in need of care and protection – underprivileged girls who have no safe home, no supporting parents, who are from families in conflict, who have no means for education, etc. Functioning in leased premises at Puranattukara, 5 kms from Thrissur town, the ATMA Gurukulam is currently home to 17 girls, aged 8 to 22
---
The ATMA Commitment
ATMA Gurukulam focuses on the education and overall development of the girls. The vision is to enable them to transform into responsible and responsive citizens of the society, and leaders in their chosen fields.
At ATMA Gurukulam, the children are given much more than food and shelter. They are given the love, care and security of a real home, where they can be safe and happy. There are two resident caretakers and a resident child welfare officer, who take care of the food, accommodation and safety needs of the children. Other trained ATMA volunteers visit regularly and stay with the children to provide educational, counselling or mentoring support.
Holistic Development
The children attend Sree Sarada Girls' Higher Secondary School, Puranattukara, till 12 th standard, and then move on to pursue higher education courses of their choice in reputed colleges. Apart from regular education, all children are given:
Extra academic support & remedial tutoring by experts
Special coaching for English & Mathematics
Regular training in arts by expert artistes
Yoga training & practice
Opportunities to participate in sports
Digital & Financial empowerment training
Leadership workshops & value education
Mentoring support by trained ATMA volunteers & professionals
Group and individual counselling sessions
Being Healthy
A well-balanced diet, regular yoga practice and daily games sessions are part of the ATMA Gurukulam routine. Regular health check -ups are also done and required treatments provided under the consultation of expert doctors.
The children often come to us after going through troubled and traumatic periods in their life. They need special care, emotional stability and psychological support. This is provided through expert counselling and therapy facilitated at ATMA Gurukulam.
Achievements
The children are responding well to our care, and bringing home accolades and achievements in academics, arts and sports. They are also well appreciated by teachers and peers for their leadership qualities and readiness to help others.
The achievement of every child is an inspiration to the younger children to follow in their footsteps and create success stories of their own. The senior girls also support and mentor the younger ones.
The joy of service
ATMA Foundation has a team of committed volunteers who devote their time, resources and expertise to support the children of ATMA Gurukulam. Together, we strive to empower the children to succeed in life, to dream big, achieve those dreams, and contribute back to the society when they can..